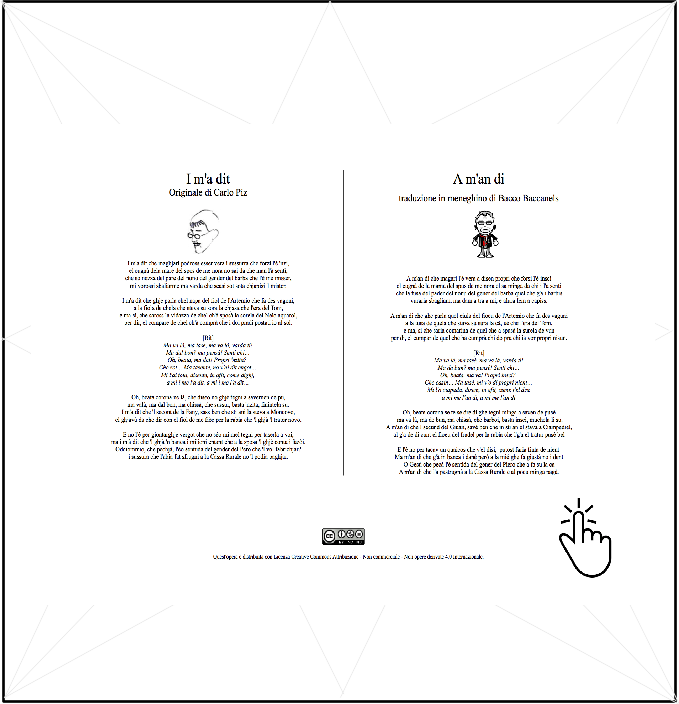 Who is Carlo Piz
A dear friend and a songwriter who wrote sweet and funny songs in "nonese" dialect, what is spoken in the Val Di Non valley in Trentino.
His work is well summarized in his
web site, which I invite you to visit.
I m'a dit
It's a very funny song whose lead theme is a key element of small towns communities : gossip.
In a certain way it's a "country" song, talking of weddings, apple growers, agricultural credit banks and tractors.
A m'an dì
At the time of a show featuring Carlo Piz's songs (Spizoclade de Onde Parade), me and the Suonova had to sing "I m'a dit" and I thought it was easier for us to sing it in a more familiar dialect: Milanese.
At the same time I thought I would have added a little bit of value to the spreading of Carlo's work translating his song in a new dialect.
Here is "A m'an dì", the Milanese version, written with my father and mother's help, since Milanese today is a little spoken language and for many words I had to ask them, coming from a time where Milanese was more widespread.
I tried to keep myself as faithful as possible to the original lyrics but sometimes I failed, especially when the number of syllables between nonese and milanese words was different.
I written the two lyrics paired to allow an easier comparison and to make explicit the original work is by Carlo Piz.
How to listen I m'a dit and A m'an dì
Below are some links to read the lyrics and listen to the various versions: