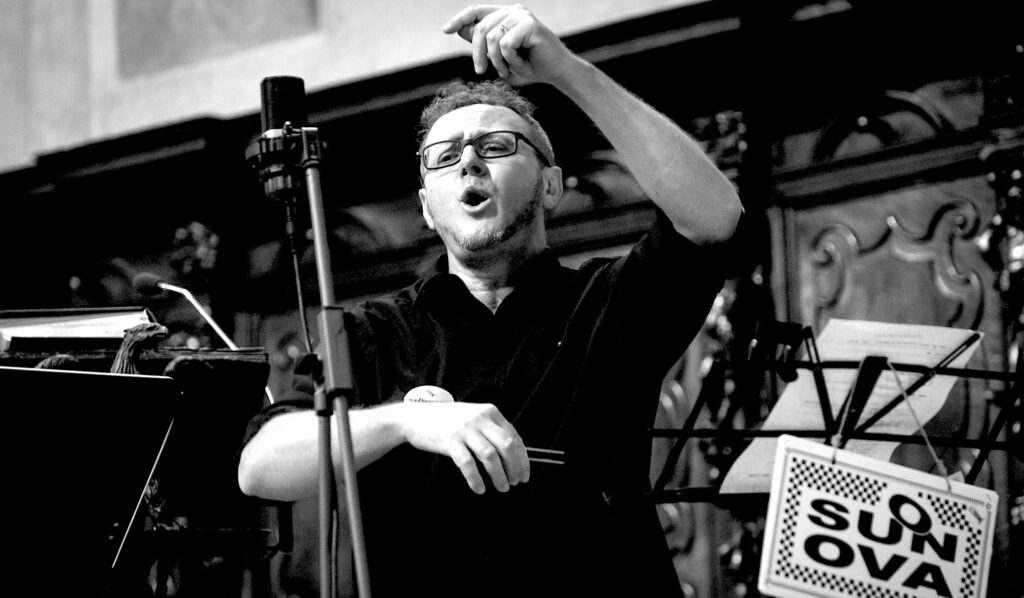 Basic biography
Born in Bollate, Milan outskirts, on a snowy day: March 1, 1964.
In those days, man had not yet landed on the Moon, some interesting movies about the war in Vietnam were not yet filmed, and Jim Morrison, Jimi Hendrix, Janis Joplin and many other J-initials great musicians were still alive.
Normal childhood. In adolescence, he begins the path that leads him, into maturity, to cocoon and make vocal music, an invention that for impact on humanity is right after reinventing the wheel.
Vocal music is today its only passion, along with eating and drinking his own body weight, the latter an essential part of his Italian "life style".
Early musical experiences
He starts playing the recorder and shortly after the guitar. (You can find the whole story in the italian short story "Musicucina")
In his youth he plays the bass guitar in local low reputation embarassing named rock bands, getting together and falling apart at high speed, like particles in the solar core.
He starts composing his own songs in English, because those years that was the style for Italian rock bands, then, after a while, in Italian, because you know, English is a
bloody difficult language for an Italian…(you can find a full explanation in the (I apologize), Italian short story: "Smoke on the Water")
Shortly before the age of thirty (more or less), he drops everything because disappointed by his own/other's music inconsistency and hangs up bass guitar, guitar, hat, gun, along with other symbolic objects. As is usually said in these cases: they are grim years, when he moves from music and approaches chemistry, mostly as a final consumer.
Vocal music
Bacco is not very good-tempered and in those gloomy thoughts years he takes it out on everything that has given him troubles: bands falling apart, music industry ignoring him, musical instruments and amplification systems never up to the task.
He decides to quit when he comes to himself and his voice, just to avoid being annihilated.
That is where his passion for vocal music was born, a minimal, pure and uncontaminated form of music in which he could run wild.
At a time when the Internet was not there, or if there were it hosted only fewer than ten web sites, the only starting point was Bobby McFerrin, of which he had a mix tape.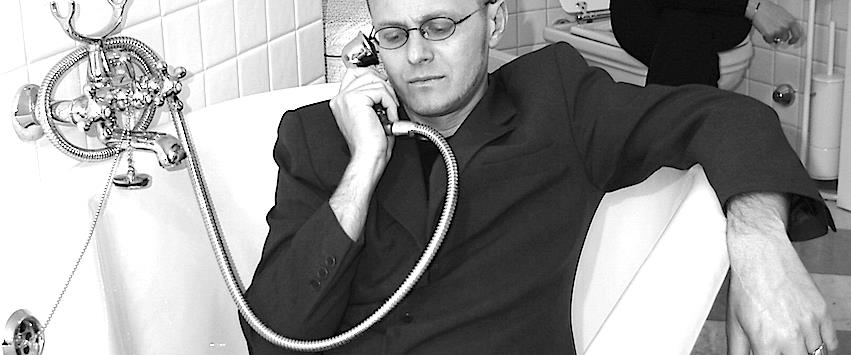 The first job: "Lavori di bocca" (Mouthworks)
It is with an Aiwa two cassette players compact recorder that Bacco makes the first album: "Lavori di bocca", in English more or less translated in "Mouth Works".
It is an extremely immature and inaudible product. Technical difficulties are enormous:
When a mistake happens, you have to redo all the vocal part from the beginning
At each recording,the cassette moves more slowly, so it slows and changes slightly in tonality
On the rhythm parts, at the end of the song Bacco is exhausted, and you can hear it.
However the first step is made and years later the author is still fond of "La macchina del caffé" (The coffee machine) and "Le luci" (Lights).
Bollate Centro: non ci sto più dentro (Downtown Bollate)
Second album, realeased in 2005 after years of work, technique is a bit improved, thanks to the use of a PC and a microphone.
It's the story that becomes more clear, because here Bacco puts us all the frustration of the clerk canned in traffic jams and jammed habits.
"Sono ridotto uno straccio", "Bollate Centro", "Coma", "Capsula spaziale", "Calendario" and Motel are frustration anthems. Only exceptions are the psychedelic "Vai più piano", the "Confuso" love song and "Fearless Little John", the latter can be put aside with the gone wrong "Inglish" experiments.
Giallo Sogno (Yellow Dream)
Between 2006 and 2011 he works at Yellow Dream, a reflective and bitter album.
The musical technique is more refined. He dedicates the last piece to Stefano Dal Bosco, with whom he has shared years of friendship and who decided to leave the planet before he should have. The title of the album is the name of Stefano's first "custom" motor bike.
Last work
After Yellow Dream, Bacco has experienced a couple of songs in the "Inglish" series, where he still fights (and looses), with the English language. Then starts working on a new album, whose concept is arranging with a certain number of voices (4 or 6), matching the composition of the vocal group "Suonova".
Suonova
Around 2010, Bacco starts taking singing classes (about time!) and singing in a choir. There he meets beautiful people. With some of them he starts a vocal quartet, now a sextet, Suonova, born on March 18, 2012.
It is a project with the following proportions: 40% friendship, 40% passion for music, 20% drinking and eating.
Suonova target is taking vocal music to beautiful and ugly places and singing on pleasurable occasions.
Suonova are usually street performers, participated in Italian culture festivals in Germany and perform as guests in song competitions and theatrical performances.
More information, in the "Suonova" section.
Where does Bacco Baccanels name come from?
From the last name of Giuseppe Giovanni Baccanelli, through… Teo Teocoli and Minnie Minoprio, ending with an "s" to give it a more international flavour.